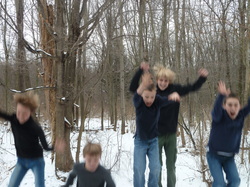 Here is some of Mike's favorite stuff

(<< These are favorites - my five grandsons!)

Take a look

---
Click on any of these links and you can buy resources on Amazon through our affiliate program.
You will get your best prices and programs and the ministry will benefit through our partnership.


Redeemer School of Ministry Spring 2016 course information

Monday evening classes:

Thursday evening classes:

Redeemer School of Ministry Textbooks

Understanding the Christian Worldview

Introduction to World Missions

Prophetic Ministry

Here are written and audio versions of the book mentioned in Getting Started with God.

Some resources for servant leadership

Some helps for making disciples - (Also see the resources on this site under the Your Personal Spiritual Journey Tab)

Some great tools for use in coaching and consulting.

Here is a good place to start for Church History

Here is a helpful little book on developing prophetic ministry.

For a great book on preaching, try...

Improve your time alone with God...